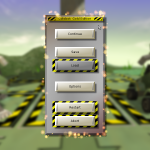 Hey, it's time for another update! This time we don't have anything bigger to announce, but we have made some random improvements that should hopefully make your playing experience better.
Main things worth mentioning are: making DefenseTower work and unlocking debugger in code battles, blur effect when pausing the game, addition of first person camera for the astronaut, better camera keybindings and joystick configuration, improved camera controls, possibility for adding custom win/lost scenes in userlevels, new debug menu and some bugfixes, as usual. More detailed changelog is available under the "Read more" button.
Go to our download page to get it.
Userlevel designers should note that this update introduces a warning for incoming changes in EndMissionTake, update your levels because if you don't, they will stop working soon!